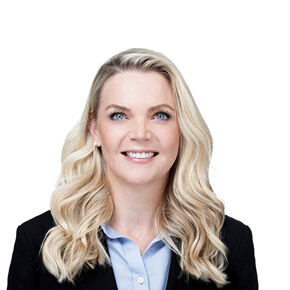 Cathrine Grimsrud
Managing Director of Mineral & Land Services
Office: (701) 842-5016
Email: CGrimsrud@FIBT.com
Cathrine Grimsrud joined First International Bank & Trust in late 2019 following a decade in the oil and gas industry. She recognized not only the need for mineral owners to have their assets managed by industry professionals, but also the need for the oil and gas industry to have a local Bank that understands their business and what it takes for them to succeed.

Cathrine holds law degrees from both the University of Oslo-Faculty of Law and the University of North Dakota-School of Law. She's held several different positions including Land Manager and Legal Counsel for private and public oil companies, and recently served as senior attorney for a large Houston based Exploration and Production Corporation. Cathrine has broad experience in the oil and gas transactional space primarily focusing on oil, gas, and midstream contracts, title examination, acquisitions and divestitures, due diligence, and regulatory compliance.
Cathrine is originally from Norway and loves horses, skiing, travelling, and hiking – especially in the Norwegian mountains. Cathrine resides in Bismarck with her two children.