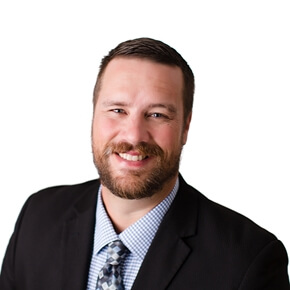 Daniel Branham
Dan Branham has nearly two decades of experience assisting his clients in managing their wealth. As a Trust Officer at First International Bank & Trust, he has years of experience in estate planning, personal trusts and farm and ranch management. Dan is well-versed in oil and gas management, and is one of only seven Certified Mineral Managers in the State of North Dakota.
Prior to banking, Dan worked on a large scale cow/calf operation in Eastern Montana. Beyond working cattle and riding horses, Dan got to experience the logistics and planning involved in the day to day operations of a large scale agricultural operation. That firsthand knowledge and coming from a family farm allows him to bring a thorough understanding of the unique needs and challenges experienced by farm and ranch families.
Dan is a graduate of North Dakota State University and Cannon Financial Institute Trust School at Boston University. He is an active volunteer at his church, and with the Williston Sea Lions Swim Club. Outside the bank, Dan can be found spending quality time with his wife and two children supporting local youth programs, 4H or on his mountain bike.